Paypal:

Bank transfers:

Please use the account of IHPA at ING Bank, Zwolle, the Netherlands:

IBAN: NL10 INGB 0660 6907 99
BIC: INGBNL2A
Accountholder: Stichting International HCH & Pesticides Association, Deventer, The Netherlands
There are different ways to donate:
Simply donate a small sum from 100 € to 1000 € or whatever you feel could help
Donate to a specific issue or project, which can be activities you personally or your organization would like to start up in a specific country or region of that country, where problems of obsolete and POPs pesticides need urgent attention
Donate special trainings on inventory, repackaging of obsolete and POPs pesticides and public awareness which we organize together with our partners
Donate on ongoing projects or projects under preparation or in start-up phase, which IHPA implements with its partners (Tauw, Milieukontakt International, Stichting Natuur en Milieu, Green Cross http://obsoletepesticides.net/ ) or which IHPA implements for UN or other organizations
Donate for the organization of the International HCH and Pesticides Forum, which is held bi-annually and entirely financed by donors and it the main international event on obsolete and POPs pesticides on the globe
You can discuss these issues with us by phoning us +4545410321 or mailing us at john.vijgen@ihpa.info and we will call you back and discuss your ideas.

Your Donation Makes a Difference, so that these children can live in a world without obsolete and POPs pesticides

(Courtesy of Berto Collet, Tauw, the Netherlands)
Just imagine these were your kids playing on obsolete pesticides

(courtesy of Aleksander Kolaci, Albania)
Kids living for many years near large obsolete pesticides storage in Albania (eliminated in 2006)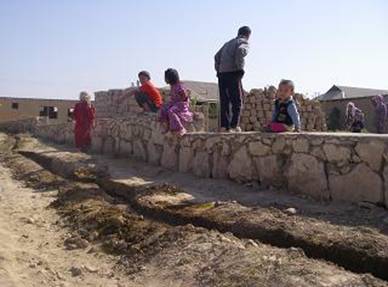 (Courtesy of Berto Collet, Tauw, the Netherlands)
Kids playing on DDT waste and contaminated soils in Tajikistan
IHPA is a non-profit independent foundation and unique as it is solely working to eliminate obsolete pesticides from the globe!
A donation to IHPA advances to the elimination of obsolete and POPs pesticides in Central and Eastern Europe, Caucasus and Central Asia specifically and worldwide in general.
A donation will help our organization to move forward in the realization of our goals in the countries concerned.
We like to talk about all the issues, but at the end of the day, the population, often very poor, that lives next or on obsolete and POPs pesticides, must be relieved. There lies our main focus. This we do in close cooperation with our partners by means of training of local trainers, public awareness and help to clean up the mess.